Shopping Cart
Your Cart is Empty
Thank you for your business!
You should be receiving an order confirmation from Paypal shortly.
Exit Shopping Cart
THERA-MED MASSAGE; HTTM, LLC
Changing lives in a meaningful way; for continuous improvement of physical freedom from pain!
Do you have neck and shoulder discomfort?
Do you find yourself rubbing your shoulders and trying to stretch your neck?
Do your legs and hips feel tight?
Is it painful to get up and down from your seat?
Don't have time to carve out for a regular massage at a massage business?
Chair Massage may be just what you need in your day!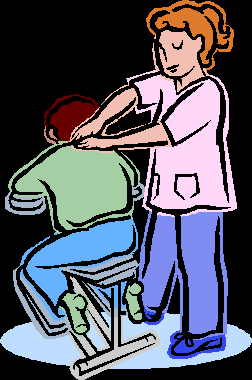 I would like to introduce myself as a fellow local small business that is interested in providing services to other small business in the Tempe vicinity. What I do is provide therapeutic/Medical massage for clients whom work in an office setting. I gravitate to this population as I am able to really provide great benefit and results quickly. So when I work with a client whom is at a desk for six plus hours a day, I look at their whole picture. Common areas are as follows:
Seated posture & desk ergonomics

Level of stress

Sleep position

Exercise
Looking at these areas help assess the approach of treatment. There are often really simple tweaks to these areas that make a great impact on how a person feels on a day to day basis. One of the ways, that also helps is quick chair massages in between the longer massage sessions. I would love to speak with you or the person whom overseas the office at this capacity to see if we can arrange an in office chair massage event that is affordable for you and your staff.
Corporate Chair Massage can be offered weekly, bi-weekly, monthly quarterly or even bi-annually. It is recommended to be at least bi-weekly for best results. The best way for me to put a proposal together for you is to do a quick survey to determine you and your staff needs. A small private space is all the company will need to provide. I will bring everything needed to make an impromptu relaxation experience.
Studies show that company benefits include but are not limited to:
Increased employee retention
Decreased absenteeism
Decrease PTO and sick time costs
Enriched corporate culture
Improved employee morale
Increase in productivity
Studies also show employee benefits include but are not limited to decreased stress, improved attitude, higher productivity, improved job satisfaction, prevent repetitive use injuries, decrease anxiety and promotes a healthy lifestyle.
Let me educate you how this benefit does not have to be an additional cost to your company and how your employees will love you for the benefit!
PRIVATE PARTIES
Add a little something different to your occasion! Chair Massage is perfect for several occasions:
Bridal Shower
Family Reunion
Bachelor Party
Spa Parties
Wine Tasting/Bakery parties
Reception Parties
Sports Events
Card Parties
Girls Night
Appreciation Days
Many different occasions where having chair massage can be a unique part of the event and make your gathering the talk of the town! Lets talk about how we can make your next party stand out from all the rest!
/